I'm back with attack.
Here is my my second album. There are 11 new tracks and some of my compilation tracks I did in the last months.
I like the album very much, cause I tried to use more uncommon or not overused stuff...here and there are some known beats or vocals from some boots, but I would say in nearly every boot is something new, no one did before...and this is something I always try to do...
Maybe not all tracks fit into everyone's musical taste but I think overall everyone should find some trackz to like...have fun while listening, drinking, dancing, rocking & banging... ;-)
Cheerz!
Morgoth
P.S. Looking for some opinions...rather good or not... hehe ;-)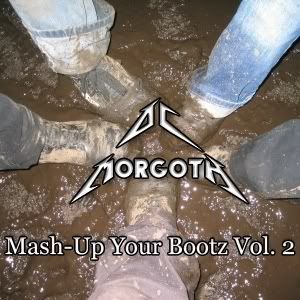 DJ Morgoth - Mash-Up Your Bootz Vol. 2
01. Bambi Umbrella (Intro) [Rihanna vs. J.B.O.] (1:32)
02. Somebody Catches The Saturate [The Chemical Brothers vs. Kosheenvs. The Killers] (4:49)
03. Cut Off The Temper [Beatsteaks vs. The Prodigy] (3:59)
04. We'll Never Walk Alone On Our Way [Kid Alex vs. Thrice] (5:12)
05. Read My Summer Lovin' [The Killers vs. Musikk feat. John Rock](5:03)
06. Madonna's Sunshine [Robbie Williams feat. Pet Shop Boys vs. TheCorrs] (5:21)
07. Hey Hamma Mama Yeah! [Black Eyed Peas vs. Culcha Candela] (3:53)
08. Take Your Mutter Out [Rammstein vs. Scissor Sisters vs. Mr. Vegas](5:30)
09. Enjoy The Falling [And One vs. Korn] (3:19)
10. Swallow Well [Depeche Mode vs. Oomph!] (3:22)
11. Because Of You I Fall Into Oblivion [EverEve vs. Kelly Clarkson](4:33)
12. Wonderful In Extremo [In Extremo vs. Fatboy Slim] (3:53)
13. Jan scheint die Sonne aus dem Arsch [Die Apokalyptischen Reiter vs.Jan Delay] (3:16)
14. Shout ABC [Disturbed vs. Jackson 5] (4:19)
15. No Gunshot To The Loved Burning Atlantis Skank [Trivium vs. DepecheMode vs. Midnight Oil vs. Genesis vs. Klaxons vs. Fatboy Slim] (5:55)
16. Godless Futility [Paradise Lost vs. Dreadful Shadows] (2:33)